Using Your Montana Notary Supplies
Notaries in Montana have very important roles to play. They are in charge of serving as impartial witnesses on behalf of the state during the signing of documents. Typically appointed by the secretary of state, a notary is supposed to deter against fraud. Without them, it would be very difficult to ensure that a signature actually came from the correct person. If you hope to serve in this capacity, you're going to need the right Montana notary supplies for the job and you'll want to know how to use them. We'll cover both below.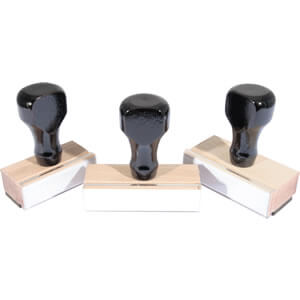 The Montana Notary Supplies
First, let's look at the actual Montana notary supplies involved. The first of them is a rectangular stamp. This tool is roughly 1" x 2 ½" with a rectangular border to it. That stamp will serve as your official seal, so while it's not extremely large, it is extremely important.
Obviously, part of your collection of Montana notary supplies needs to include ink. While there are no official requirements on where you get your ink from or the kind, per se, you do need to make sure you only use blue or black.
The stamp itself must list very specific information too. At the top, it will say, "State of Montana." Then, below that, the stamp should read, "Notary Public." Under that will be your full name as it appeared on your application for becoming a notary.
The final two lines of your stamp will say, "Commission No." followed by your official number as a notary. The last line will give the expiration date. It should read, "My Commission Expires" and then the date.
Every year, then, you're going to need to update your Montana notary supplies. That's because you have to get the right expiration date and, unlike stamps they used to utilize at libraries, there's no way to change the date without getting a whole new notary stamp.
The other important component of this stamp is the seal. Obviously, without an official seal, none of your other Montana notary supplies are going to be much good. The seal should appear on the far left of the stamp. It will have your name going across the top with "State of Montana" going along the bottom. In the middle, it will just say, "Notarial Seal."
Using Your Montana Notary Supplies
Whether you've used Montana notary supplies in the past or you're completely new to the practice, you should know that the laws here will change in October. One of the many changes will include the fact that applicants no longer need to live in the state and felons can now apply.
The good news is that the same Montana notary supplies you have right now will still work. Obviously, that is, if the date on them is accurate.
Using Montana Notary Supplies Online
One big change to the use of Montana notary supplies, though, is that there is now an online version. Called "eNotarizations", this is the state's way of keeping pace with the digital age and the need to verify signatures and/or virtual documents.
If you have the Montana notary supplies for carrying out this kind of confirmation, you still have to be sure that you first alert the secretary of state before doing so. You must also let the secretary know which Montana notary supplies you'll be using to carry out an eNotarization. These rules may change in the near future, but as of October 1st, you have to follow them as they currently stand.
Keep in mind that just because you've been issued Montana notary supplies doesn't mean you actually have to use them. To the contrary, part of your job as a notary is exercising discretion regarding when you carry out your duties.
If you are not satisfied that the person attempting to execute a document is capable of doing so or competent, it is incumbent on you to refuse to notarize it for them.
As a notary for the state of Montana, you have a very important job to carry out. A big part of this job is making sure that you have the right tools to do so.